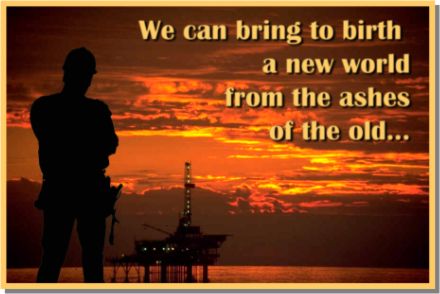 Welcome to Rebel Graphics!
Menus are at the page bottoms. Wherever you are on this site, the END key on your keyboard makes a menu magically appear.
---
---
Two dumpster divers jailed for six months.
---
Transform! Columbus Day
---
The story of twelve thousand Colorado coal miners taking a stand in history, fighting for their rights against the coal companies and the state of Colorado.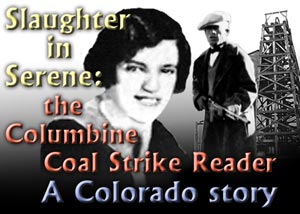 Slaughter in Serene: the Columbine Coal Strike Reader
---
This website isn't about music. This link is here for one reason: it is wonderful music.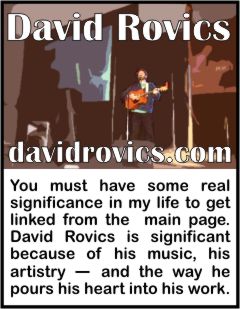 It is also protest music that won't please everyone. (But it pleases me...)
I'm a Woody Guthrie fan, and after listening to a couple of David Rovics songs i suspected that he might be Woody Guthrie come back to sing.
I listened to a few more songs and decided that Woody Guthrie never dreamed of singing this well.
Woody's songs were simple and direct. David's imagery is more vivid, his range is greater.
David's lyrics are both haunting and thought-provoking. David's songs grab you, sit you down. You'll shush the kids as you try to catch every word.
David is one of the great folk musicians of our time. His voice has the same hypnotizing persuasiveness whether he sings powerfully or softly. David sometimes captures that Guthrie grit and gravel in the voice, and it works magic in the music.
Go download some socially significant songs.
Listen, then consider a donation.
Come on back when you're done.
---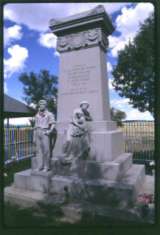 The Ludlow Monument, erected "in memory of the men, women and children who lost their lives in freedom's cause..." was recently desecrated. What, someone doesn't like freedom?
---
Here is a riddle:
She had an extensive FBI file.

In spite of very serious physical impairments, she was considered a threat to the government.

Yet so successfully has our society censored information about her radical politics that the state of Alabama has selected her likeness for their state coin.

Everyone has seen movies about her remarkable early life; very few now know about her once widely-disseminated beliefs.

Who is she?

Answer is somewhere on this website—see if you can find it!
---
The Western Federation of Miners union hall is a historic treasure that needs saving.
---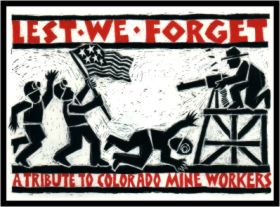 Also read about the other Columbine Massacre on this website. Or read about the book: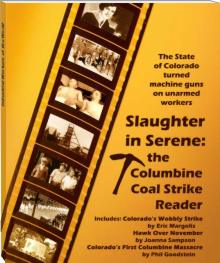 ---
Here's the menu. Bounce around. Send me an email, tell me what you think.